"The Sheriff shall keep and preserve the peace of his county"
Fallen Officers
This page is dedicated to those officers who have given the ultimate sacrifice to Jackson County while protecting its citizens.
Psalm 23
The Lord is my Shepherd; I shall not want.
He maketh me to lie down in green pastures:
He leadeth me beside the still waters.
He restoreth my soul:
He leadeth me in the paths of righteousness for His name' sake.
Yea, though I walk through the valley of the shadow of death,
I will fear no evil: For thou art with me;
Thy rod and thy staff, they comfort me.
Thou preparest a table before me in the presence of mine enemies;
Thou annointest my head with oil; My cup runneth over.
Surely goodness and mercy shall follow me all the days of my life,
And I will dwell in the House of the Lord forever.
---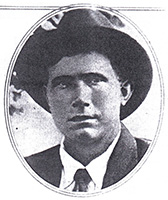 Deputy Claude Green's tour of duty ended on Saturday, September 1, 1928 as the result of a gunshot wound. Deputy Green was attending a box supper at Balsam School when he was shot and killed by two separate weapons. Ed Smathers was convicted of second degree murder and sentenced to serve 20 to 25 years. After only serving a short time he was paroled and moved west.
---
Sheriff Claud C. Mason's tour of duty ended on Wednesday, June 15, 1938 as a result of a gunshot wound. Sheriff Mason and Deputy Homer Turpin went to the home of Donald Ashe in Webster to serve commitment papers when Sheriff Mason was shot in the shoulder and chest by a shotgun blast. Deputy Turpin returned to town to get assistance, while others returned to arrest Mr. Ashe, finding him dead in an upstairs bedroom from an apparent self inflicted gunshot wound.
---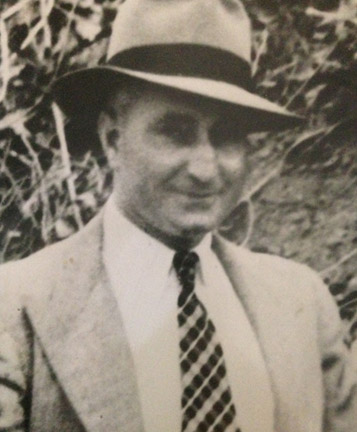 Sheriff Griffin C. Middleton's tour of duty ended on Thursday, July 2, 1953 as a result of a gunshot wound. Sheriff Middleton along with several other law enforcement officers, were trying to locate Demos Woods in the Canada community for assaulting Norvella McCall. Woods had eluded arrest by hiding out in a heavily wooded area in the Canada community. Several of Woods friends who were with him in the woods were arrested and gave information about Woods threatening statements about Sheriff Middleton. After receiving information about a more precise location of Woods, Sheriff Middleton, along with Officer John Sides were walking a trail in the woods when Sheriff Middleton was gunned down by a shotgun blast that struck him in the chest and neck. Officer Sides only saw two figures run into the woods. A manhunt ensued with help from multiple law enforcement agencies. Woods was eventually captured and convicted of murdering Sheriff Middleton. It has been unclear about Woods incarceration. But, folklore has it that he served a lengthy sentence and was paroled then later died of cancer.
---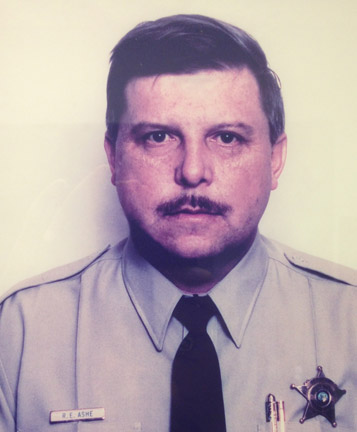 Deputy Gene Ashe's tour of duty ended when he suffered a fatal heart attack following a high speed pursuit that went through narrow, steep mountain roads in three different counties on Thursday, April 13, 1995. The officers were chasing a driver who was a member of a local militia movement that refused to register their vehicles or obtain license plates. The chase started when a Waynesville Police Officer attempted to stop the driver for not having a license plate. Deputy Ashe was later found in his patrol car approximately 0015 hours after breaking off from the chase. The suspect was released from jail in 2002 after serving only five years. Deputy Ashe was a 14 year veteran of the Jackson County Sheriff's Office.
Eleven years after Deputy Gene Ashe's death, a section of US Highway 441 South was dedicated to Deputy Ashe's memory. This sign was unveiled on April 13, 2006 by members of Deputy Ashe's family, Sheriff Jimmy Ashe, and NCDOT Division Engineer Joel Setzer. The section of highway covers the same area where Deputy Ashe was found in his patrol vehicle following the chase that lead to his death.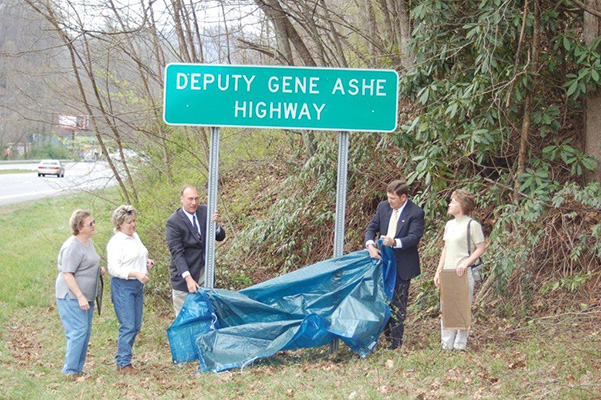 (left to right; Nancy Buchanan, Millie Wood, Sheriff Ashe, Joel Setzer, and Susan Shannon)
---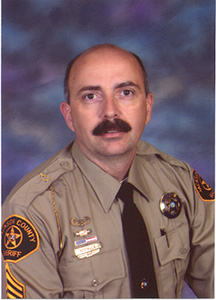 Lieutenant Ellith McFalls was struck by a cerebral aneurysm while on duty on Monday, March 6, 2006. He subsequently passed away on Wednesday, March 8, 2006. Lieutenant McFalls was promoted to Lieutenant over the Sheriff's Office Civil Process Division on March 1, 2006. Before that, Lieutenant McFalls served eight months as the Civil Process Sergeant. Before serving in the Civil Division, Lieutenant McFalls had served as a Patrol Sergeant and Patrol Deputy since the beginning of his career with the Jackson County Sheriff's Office in 1990. Lieutenant McFalls also served as the team sniper for the S.E.T.T. team (Sheriff's Emergency Tactical Team).